Hardwick Clothes
ALL WOOL TRAVEL BLAZERS
100% WORSTED WOOL
Size Scale
Reg:38,40-44,46,48,50
Long:40-50(Even Only)
Short:40-46(Even Only)
Extended Size Scale
Reg:36,38-44,46-56(Even)
Long:38-44,46-56(Even)
X-Long:42-48(Even)
Short:38-46(Even)
ATTICUS TRAVEL BLAZER
CLASSIC ATTICUS FIT
NOTCH LAPEL,BLUFFED EDGE
FULLY LINED CENTER VENT
ANTIQUE BRASS BUTTON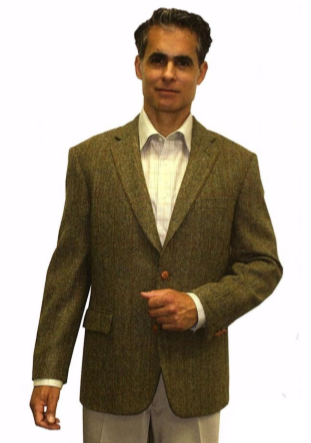 ---
H-TECH PERFORMANCE BLAZER
98% WOOL SUPER 100's / 2% LYCRA
Our H-TECH Blazer features and innovative fabric developed exclusively for Hardwick, resulting in a much-appreciated as the versatile classic. With a blen of SUPER 100's wool & @% Lycra,this 2-ply cloth boasts increased performance with wrinkle-resistance and stretch properties,adding to both comfort and ease of wear. The subtle texture of the fabric is set off with mother-of-pearl buttons,offering a modern twist on the perennial staple.
H-TECH BRADLEY BLAZER
Click Here to Enlarge
UPDATED BRADLEY FIT NOTCH LAPEL,BLUFFED EDGE FULLY LINED,SIDE VENTS SMOKE MOTHER OF PEARL BUTTONS INTERIOR PRIVACY POCKET
---
Size Scale Reg:38,40-44,46,48,50 Long:40-50(Even Only) Short:40-46(Even Only)
Extended Size Scale Reg:36,38-44,46-56(Even) Long:38-44,46-56(Even) X-Long:42-48(Even) Short:38-46(Even)
The Italian & English Blazers
100% WOOL SUPER 150'S
Click Here to Enlarge
THE ITALIAN BLAZER
VITALE BARBERIS CANONICO MODEL KB01 CLASSIC ATTICUS FIT NOTCH LAPEL,1/16th PICK STITCH/p> FULLY LINED,CENTER VENTS BURGUNDY BEMBERG LINING GOLD COLOR H BUTTON
---
Click on the fabric swatches below for a larger image.